Thursday, 10th October 2019
BMG Volvo Service Kits
Blake Machinery Group run a fleet of approximately 100 machines including Articulated Dump Trucks, Loaders, Graders and Excavators to name a few. These machines work in all types of conditions and places from South Australia right up to the Northern Tip of Queensland.
Our workshop are responsible for the maintenance of these machines ensuring that they are in good working repair before going to work on site for our customers.

The Parts Department teamed up with the Workshop to use their extensive knowledge to develop Service Kits for our Volvo's in the fleet, to suit the requirements of BMG. Having dealt with other OEM's and finding that sometimes the Kits do not suit our requirements, with more or less parts than required, we decided collectively to put together BMG Kits. Now the workshop only have 1 part number, rather than the entire consist and they also get what is required for the service in a labelled box.

These kits are also available to all of our customers to purchase and cover D, E and F Series Trucks, E and F Series Loaders, ECR88C L through to ECR305C L and EC210C L through to EC330C L.
We use predominantly use Fleetguard Filters, only using Aftermarket Blumaq and Genuine Volvo where there is not a cross over.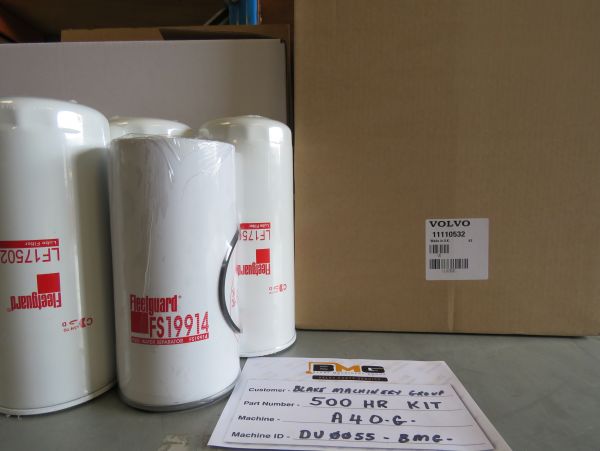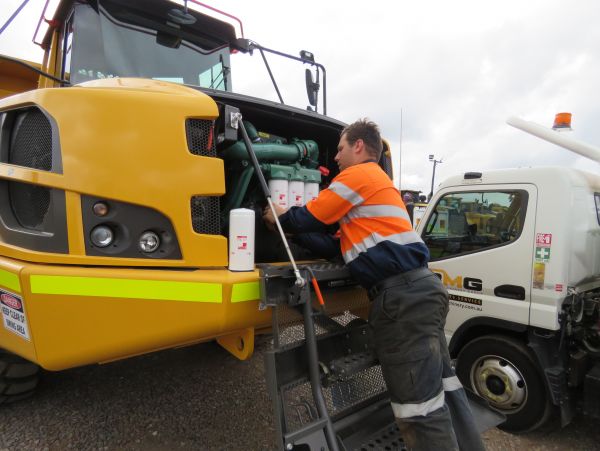 Pictured: Service Kit Contents                    Pictured: Jack, one of our fitters, servicing a Volvo A40G